Special November Charity 2012
American Red Cross Disaster Relief
The nOg Run made a $2637.10 donation to the Superstorm Sandy Disaster Relief Fund! THANK YOU to everyone who supported the extra charity night.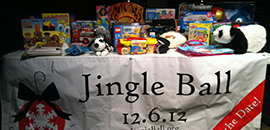 November Charity 2012
Capital City Clauses
The nOg Run Club collected toys and made a $730 donation to the Capital City Clauses. Congratulations to Peg Lawler for winning the FREE running shoes courtesy of Fleet Feet Raleigh AND the VIP tickets to the Jingle Ball!