FAQ
frequently asked questions
What do I need to know about the nOg Run Club meet?
We meet EVERY Monday at the Raleigh Beer Garden (614 Glenwood Ave., Raleigh, NC 27603) and run at 6:15pm. If you are new, make sure you show up to your first run 15 minutes early to register. After the run, stay and enjoy the $5 runner menu. Each week we have entertainment (99.9999% of the time it is trivia) which starts at 7:15pm. Maps are provided for 3, 4, 5 and 6 mile routes.
What is the cost of joining the nOg Run Club?
FREE…well sort of. It costs $1 to buy a key tag to keep track of your attendance. If you decide to have your attendance tracked, you will receive an awesome tech shirt courtesy of New Balance after 10 runs and a glass mug courtesy of LoneRider after 25 runs.
What are the routes you run?
Where should I park?
Click here to view parking map with street and lot parking available to our runners:  nOg Run Club Parking Map
There is quite a few free street around the Raleigh Beer Garden, which we have highlighted in blue on the map.
Peace Camera, Capital Quick Lube, and Gentle Touch Car Wash have given permission to park in their lots AFTER 6pm. Please note, there is additional parking in the back between Capital Quick Lube and Gentle Touch Car Wash and behind JW Imaging.
Parking garage on Tucker St. (between Glenwood and West St.) are offering us a reduced price of $2 on Mondays.  You must enter through the Tucker St. entrance and tell the attendant you are with the nOg Run Club.
What are the rules of the nOg Run Club?
We have a really large group, and need participants to run safely and courteously; therefore, we need you to agree to the following running safety guidelines while participating in the nOg Run Club:

I will run on the sidewalk whenever possible, when not running on the sidewalk, I will run on the side of the road, facing on-coming traffic at all times (the left side for most of the route).
I will wear reflective clothing, accessories, or lights for my safety and the safety of others.
I will wear reflective clothing, accessories, or lights for my safety and the safety of others. I will stop at all stop signs and stop lights to insure that oncoming traffic yields to me before proceeding across the road. I will not assume that running with a group allows me to run in a hazardous manner.
I will cross streets at intersections or official crosswalks, always yielding to oncoming traffic.
What is Charity Night
Charity night is a night we bring in and support a local charity. Charity night is always the fourth Monday of the month. The charity will supply us with a list of requested items and provide the entertainment for that week. The nOg Run Club will donate $1,500 to the monthly charity and we ask our members to bring in a requested donation. If you are involved in a charity and would like to get on the list for a charity night, please send an email to info@nOgRunClub.com.
our location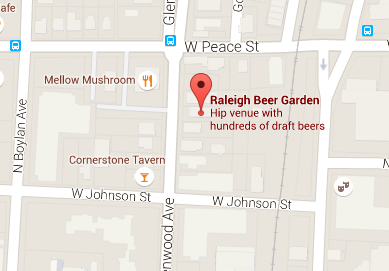 614 Glenwood Ave., Raleigh, NC 27603