World Record Flip Flop 1K
World Record Flip Flop 1K

June 10th, 2017 @ 10:30am
Bond Brothers Beer Company, 202 E. Cedar St., Cary
OUR 2016 RECORD- 805 runners
CURRENT WORLD RECORD- 845 runners (Spain)
Join us as we attempt to take back our Guinness World Record for the Largest Flip Flop Run/Walk!  Last year we broke our own record with 805 runners and a group in Spain just broke our record with 845 people.  Get your friends and family and help us take back our record!  We will start entering the corral area at 10:30am and the run will start at 11am.  Please make sure you are at Bond Brothers by 10:30am!
NEW to 2017, Guinness is NOT requiring every 50 runners to wear a different color shirt!  This will greatly speed up the process of corraling the runners.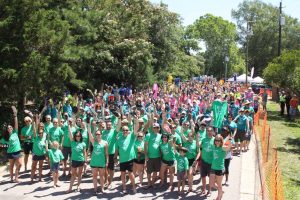 Registration:
$20 through June 7th, 2017
$25 June 8th-10th, 2017
$160 for group of 10
Feelgoodz flip flops are available when you register for over 50% off!  You can purchase rubber flip flops for $10 (regularly $25) or leather for $20 (regularly $45).
Race Details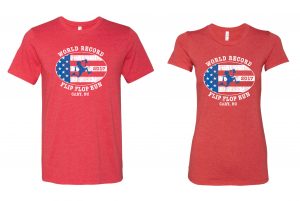 This non-timed 1K fun run and everyone must wear unaltered "thong" flip flops! The current Guinness World Record is 845 and was set by a group in Spain in Sept. 2016 ! You must be at Bond Brothers Beer Company by 10:45am. Included in your registration is a race shirt which MUST BE WORN DURING THE RUN. If you are not wearing thong (unaltered) sandals, you will not be able to participate.
Every participant must wear thong flip flops.  They can not adapted for the race in any way and may not have backs.
Everyone must complete the entire 1K in flip flops (run or walk).
Strollers are allowed in the race.
Dogs are not allowed to participate due to liability insurance.
Packet Pickup
Thursday, June 8th:  4-7pm at Fleet Feet Raleigh Ridgewood Shopping Center
Friday, June 9th-:4-7pm at Bond Brothers Beer Company
Saturday, June 10th: 9:30- 10:45am at Bond Brothers Beer Company