DUE TO COVID, THE 2020 WORLD'S LARGEST FLIP FLOP 1K PRESENTED BY CHATHAM STREET COMMERICAL WILL BE HELP VIRTUALLY.  WE WILL HOLD A PACKET PICKUP ON SEPTEMBER 18TH/19TH AND WORKING ON A LOCATION. WE THANK YOU FOR YOUR SUPPORT OVER THE PAST 12 YEARS AND HOPE TO SEE YOU IN PERSON IN 2021.
Registration is now open for the 6th annual World's Largest Flip Flop 1K Walk Presented by Chatham Street Commercial! This event is a fundraiser to sponsor children through the Wake County Holiday Cheer Program.
Registration & Race Details
Pricing:
Through August 12th – $20
August 13-15th – $25
Youth Registration (12 and under) – $15
Race Details:
UPDATE for 2020:  We will not be attempting to reclaim our Guinness World Record.  Instead we will be keeping alive the annual tradition of the event and walking the 1K while socially distancing.  We will NOT be lining people up in a corral to start the walk.
This is not your typical "race."  There are guidelines we have to follow to submit to Guinness for our attempt to be verified as a new Guinness World Record.
Schedule of Events:
Once you arrive at Bond Brothers, you will pick up your bar code liability waiver at the table in front of Bond Brothers.  You will hand this form in to be scanned when you enter into the corral area.  Every participant will hand in their own form and is one of the ways we count participants.
10:30am – Enter into the "corral area."  This is a required step by Guinness and will be recorded for verification submission. Please arrive no later than 10:30am at Bond Brothers.  We highly encourage you to pick up your race bib/shirt at either Thursday or Friday packet pickup to help with lines on race morning.
11am – all runners should be in the corral area.  Once all participants are in the corral area, a group photo will be taken and the 1K will start.
Guinness Guidelines:
Every participant must wear thong flip flops.  They can not adapted for the race in any way and may not have backs.
Everyone must complete the entire 1K in flip flops (run or walk).
Strollers are allowed in the race.
Dogs are not allowed to participate due to liability insurance.
Race Swag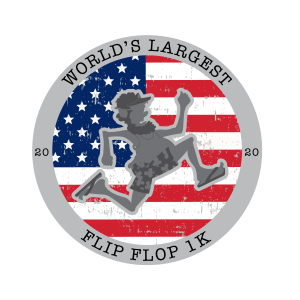 Every registered participant will receive a polyblend shirt (not guaranteed after August 3rd) and the first 2,100 people will receive the commemorative medal magnet.  This is the same shirt we have used the past three years.  Ladies, the shirts runs REALLY small and is very fitted.  Please order 1-2 sizes larger than normal or unisex if you do not want a fitted shirt.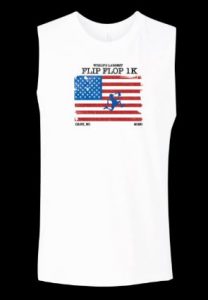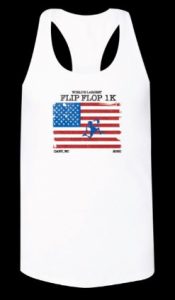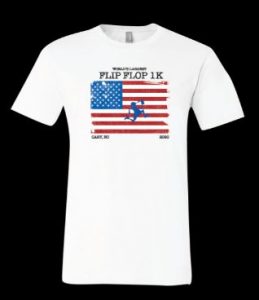 Additional Details
Shirts are not guaranteed after August 3rd.  Extra shirts will be ordered but sizes not guaranteed.  If we are out of your size shirt, please wear a white shirt to the event.
The first 2,100 people to register will receive a commemorative finishers medal magnet.
We highly encourage you to pick up on Thursday or Friday to help cut down the line event morning
Dogs are NOT allowed due to our liability insurance
Strollers are allowed but please start in the back.
Charity Teams
Do you work or volunteer for a local charity?  We are looking for charity teams to join the World's Largest Flip Flop 1K!
How it works:
 To be a confirmed charity team, please send us an email at info@nOgRunClub.com
 The first person to register will create the charity team's name (under INDIVIDUAL registration and NOT group registration)
 We will donate the proceeds of all registrations under your team name back to your charity ($10 for adults and $5 for children)
 The charities will provide 2 volunteers (21 or older) per 50 charity registrations (1-50 participants = 2 volunteers, 51-100 participants = 4 volunteers, etc)
 Donations will be made the week after the event